You have two ways to join a live training event. (You must have registered for the live event from an email, or from inside your Teacher Learning Community Account prior to the session start time.)
The first way to join a live training session is to use the "Join Webinar" link provided by the GoToWebinar Email.
When you register for a SimpleK12 Training Session or Workshop, you will receive an email for the session from the GoToWebinar Service containing a Join Webinar link.
The email will go to the email address that you used to register with for the session. (Try to always register with the same email address that you use for your Teacher Learning Community Account. This will help with tracking.) All you need to do is click on the link inside the email and it will prompt you to join the training. There is no need to sign in. :)
If you don't see the email for the session that you wish to view, check your SPAM folder. Many times they will be in there. An example of what one of those emails would look like is below: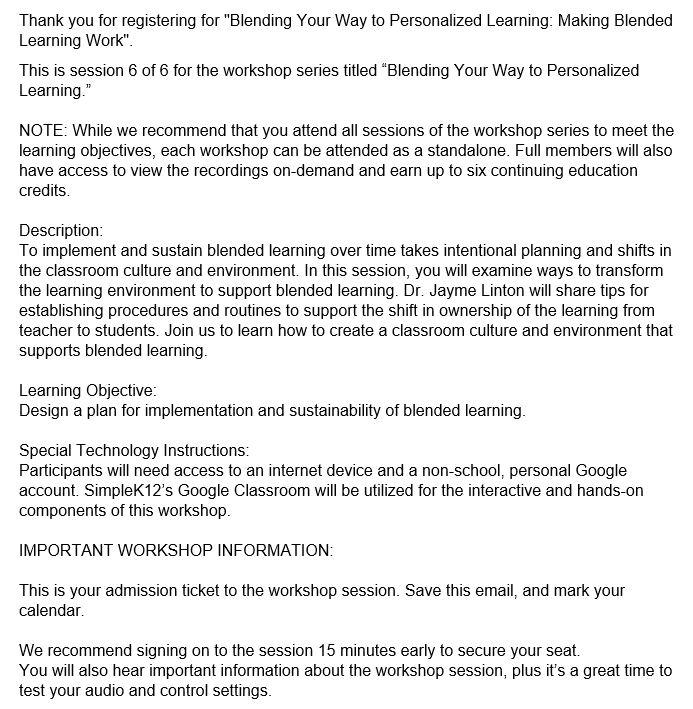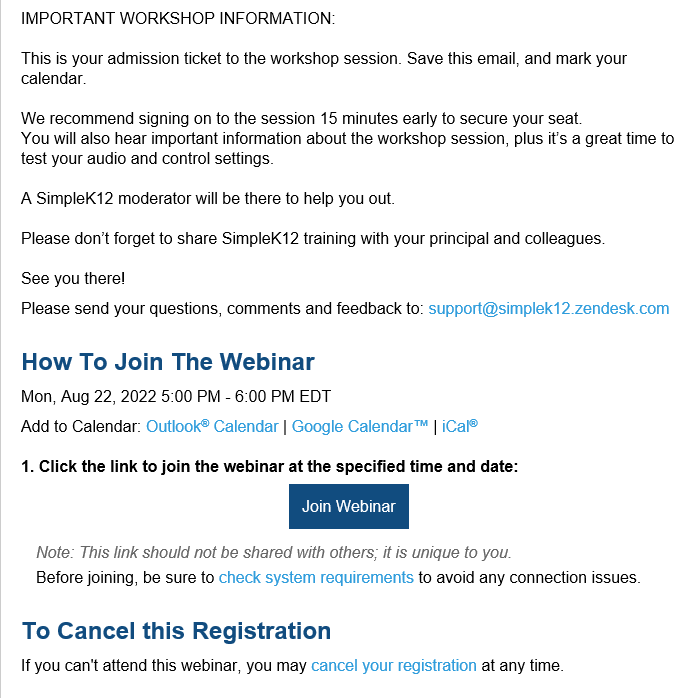 How to Join the Training:
1. Click the link to join the training at the specified time and date: (Note: This link should not be shared with others; it is unique to you.)
https://global.gotowebinar.com/join/5291305518204464642/506207330

2. Choose one of the following audio options:

TO USE YOUR COMPUTER'S AUDIO:
When the session begins, you will be connected to audio using your computer's microphone and speakers (VoIP). A headset is recommended.

--OR--

TO USE YOUR TELEPHONE:
If you prefer to use your phone, you must select "Use Telephone" after joining the session and call in using the numbers below.

United States: +1 (415) 655-0059
Access Code: 953-690-698
Audio PIN: Shown after joining the session
Webinar ID: 102-133-091
View System Requirements

If you can't attend this session, you may cancel your registration at any time.
The second way to join a live training is to log into your Teacher Learning Community Account.
Login at http://www.simplek12.com
Enter your email address
Enter your password
Click Webinars on Menu Bar
Click Upcoming Sessions or Upcoming Workshops on Menu Bar
Click Title of the training
Click the link to join
DO NOT click the Unregister Button.